Nationally known dealers
There will be over 25 dealers from around the country. The glass and pottery that will be for sale is all American made. We will have early American pattern glass, elegant or handmade glassware, depression glassware, kitchen glassware, Pyrex, Fire King, and Fenton. There will be something for everyone. Our show dealers will also have available for sale, items to help set the table, such as linens, silverware, etc.
Door Prize Drawings and Raffle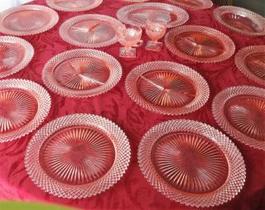 Each attendee may fill out an entry for our Door Prize drawings, which are held hourly. Entries for the regular door prizes are free.
In addition, the Society sponsors a Raffle ($1/ticket) during the Show. The 2018 Raffle prize (Pink Miss America set) is shown at left and it consists of 6 dinner plates, 6 grill plates, 4 part relish, oval celery, oval vegetable bowl, oval platter, creamer, and sugar. WOW. The Raffle winner need not be present to win. Proceeds from the raffle are donated to Glass Museums that help to preserve the American made glass story.
Glass Identifcation and Glass Repair
All weekend there will be a glass identification table. Bring in that piece of glass to be identified. Our members will use the clubs extensive reference library to help in the identification. In addition, there will be a professional crystal repair service all weekend, so bring in any pieces that have a small "ding" and see if they can be restored to near original condition.
Show Hours
The public is invited during the hours of 10:00am to 5:00pm on Saturday March 10, 2018 and 11:00am to 4:00pm on Sunday March 11, 2018. Admission is $8.00 per person, good for both days.
For more information contact 20-30-40 Glass Society of Illinois, Jane Schleinzer, telephone (630)851-4504, email JSANTIQUES@aol.com.