43rd Annual Antique American
Glass and Pottery Show and Sale
The Antique American Glass sale will be held on Saturday, March 14, and Sunday, March 15, 2015 at the Concord Plaza Midwest Conference Center 401 West Lake Street Northlake, Illinois. This will be our 43rd year!
The sale is sponsored by the 20-30-40 Glass Society of Illinois. The Society members are collectors of American made depression era glass, handmade glass, pottery, and related material. Proceeds from the show are donated to glass museums that help to preserve the American made glass story.
Nationally known dealers
There will be over 25 dealers from around the country. The glass and pottery that will be for sale is all American made. We will have early American pattern glass, elegant or handmade glassware, depression glassware, kitchen glassware, Pyrex, Fire King, and Fenton. There will be something for everyone. Our show dealers will also have available for sale, items to help set the table, such as linens, silverware, etc.
Grand Prize Drawing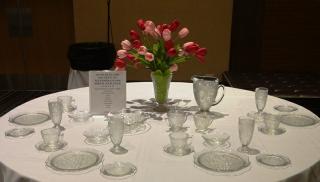 Each attendee may fill out an entry for our Grand Prize drawing, to be held Sunday afternoon. The winner need not be present to win. The prize for 2014 was a set of "Iris and Herringbone" in crystal, as pictured at left. Click on the photo for a larger view. We will change the photo when the 2015 prize is determined.
Glass Identifcation and Glass Repair
All weekend there will be a glass identification table. Bring in that piece of glass to be identified. Our members will use the clubs extensive reference library to help in the identification. There will be a crystal repair service all weekend also. We have hourly door prizes and a raffle of antique American glass. The winner of the raffle will be drawn late in the day on Sunday. Winner need not be present.
Show Hours
The public is invited during the hours of 10:00am to 5:00pm on Saturday March 14, 2015 and 11:00am to 4:00pm on Sunday March 15, 2015. Admission is $8.00 per person.
The Society meets six times a year to celebrate the beauty of American made glassware and pottery. We enjoy programs and displays on elegant or handmade glassware and depression era glass. Members may also bring in an item for identification. We enjoy a day of beautiful glass, knowledge, food, and friendship.
For more information or photos contact 20 30 40 Glass Society of Illinois Jane Schleinzer, telephone (630)851-4504, email JSANTIQUES@aol.com.
Discount Admission
Click on the link to display our Show Card for 2015. Print the card and bring it to the Show for a discount of $1.00 off the price of admission.